Why stay with us?

We believe that no discerning feline would want to stay anywhere else once they have experienced a luxury break with us!
Whilst you holiday, you can relax in the knowledge that your beloved pet is having a wonderful holiday too.
Each individually heated suite has been adorned, with sumptuous bedding, high quality beds and themed wallpaper, offering not only the highest standards of comfort, but also the highest standards of hygiene. Please browse 'Our Suites' to find your favourite.
Guests can choose to relax in their personal sleeping quarters, or venture into their private play areas to bask in the sun, play with their complimentary toys, or scale the heights of their play tree and get a birds' eye view of the secluded gardens. Or maybe your pet would like to take time out in their day to indulge in one of our pampered preening packages, or send a postcard or email update with some holiday snaps to their families?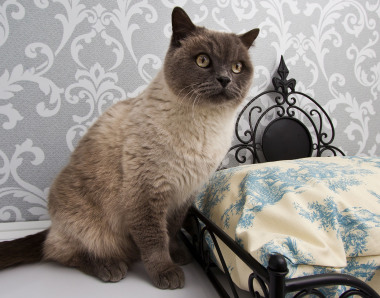 Even our quality wide rimmed, shallow water bowls and dinner plates have been chosen with kitty in mind, preserving precious whiskers and providing a comfortable dining experience. If you would like to treat your pet with a delectable dish from our freshly prepared menu please choose from our 'Fine Dining' menu.
With a Registered Veterinary Nurse as the owner and manager of Aristocat hotel, we offer peace of mind to families of elderly guests or guests on long term medication, diabetic guests are also well catered for. We are happy to administer medication at no extra charge.
All surfaces of our purpose built building are fully wipeable, removing every trace of any previous occupant, providing a stress free environment for our guests. We use only the best quality cat litter and disinfectants to provide superb cleanliness. Even our play trees have washable covers and wipeable surfaces.
Most importantly of all we offer love, safety, security and dedicated individual care to all our guests. If our guests are happy we are happy.